Seeds of Transition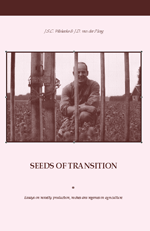 boek bekijken:
klik hier
Seeds of transition
Essays on novelty production, niches ans regimes in agriculture
Author(s) Wiskerke J.S.C., Ploeg J.D. van der (eds.)
Year 2004
Pages 362
Publication 1
ISBN 9789023239888
ISBN10: 9023239881
Essays on novelty production, niches ans regimes in agriculture
-
Seeds of transition
Agriculture is confronted with changing societal expectations and demands regarding its role in food production and in the countryside. Complying with these expectations and demands will require a comprehensive, far-reaching and therefore far from easy and long-lasting transition of agriculture. This book seeks to explore the seeds of this transition by the describing and analysing the production of promising novelties (i.e. new sustainable modes of doing and thinking) in relation to the dominant regime (i.e. the vested and institutionalised mode of doing and thinking).
On a theoretical level this book aims at the integration of hitherto largely disconnected disciplines and bodies of literature. These are neo-institutional economics, rural sociolo-gy, classical agronomy and science, technology & society (STS) studies. Central to the integrated approach here is a multi-level analysis that addresses simultaneously (1) material realities, (2) social realities, (3) macro-level patterns of inter-action and (4) the impact of collective actions that aim to secure a definitive shift in technical-institutional designs towards new forms of sustainable agricultural and rural development. Theoretical and conceptual debates are illustrated and supported by a variety of case-studies from the Netherlands, Italy, Spain, South Africa and Kenya.
NIEUW
---
---
Jan Douwe van der Ploeg
Formerly Professor and Chair of Rural Sociology and Emeritus professor of Transition Studies at Wageningen University (WUR), the Netherlands and Adjunct Professor of Rural Sociology at the College of Humanities and Development Studies (COHD) of China Agricultural University (CAU) in Beijing, China.
e-mail: klik hier