The Condition of Rural Sustainability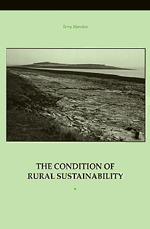 Auteur(s) Marsden T.
Jaar 2003
Druk 1
Uitgever: Gorcum b.v., Koninklijke Van
Aantal pagina's 280
ISBN 9789023238812
The Condition of Rural Sustainability
Van Gorcum Assen ISBN90-232-3881-8
Terry Marsden gives in this book a treatise on the current state of rural sustainability. He explores its ?condition? by positing whether it is possible for the development of an alternative, more sustainable rural development paradigm to take hold. How can social scientists, policy-makers and civil society assemble the means to make the rural more sustainable?
NIEUW
---
---
Jan Douwe van der Ploeg
Formerly Professor and Chair of Rural Sociology and Emeritus professor of Transition Studies at Wageningen University (WUR), the Netherlands and Adjunct Professor of Rural Sociology at the College of Humanities and Development Studies (COHD) of China Agricultural University (CAU) in Beijing, China.
e-mail: klik hier