Jan Douwe van der Ploeg was born in 1950 and grew up in Fryslân, in the north of the Netherlands. After his secondary education in Sneek (1968), he attended Wageningen Agricultural University where he was awarded the degree of agricultural engineer in 1976. In Wageningen he specialized in agrarian sociology of non-western countries, development economics and methods and techniques of social research.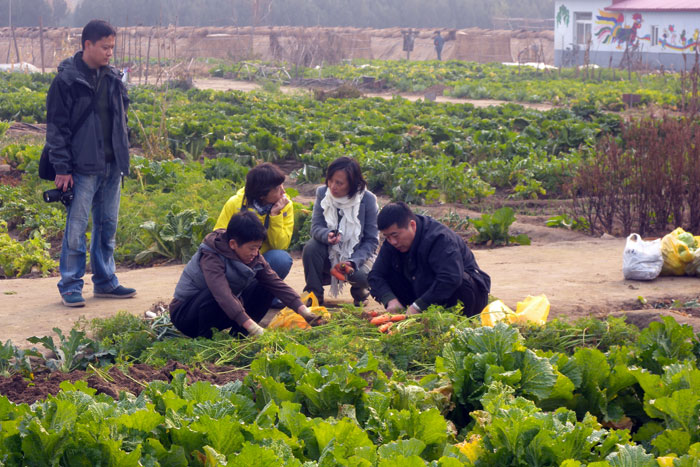 Membros da CSA colhendo cenouras na fazenda Little Donkey
.
During his study he spent more than a year in Peru. Here, in Piura, he studied the contradictions of the land reform process that was taking place at that time. After he had completed his field research he wrote his first book, De Gestolen Toekomst (The Stolen Future) in which he compared the development pattern that had evolved within local peasant communities to that imposed by the government.
When he was a student he spent one year on the Board of the Wageningen Student Syndicate (Wastra) and was also closely involved in the Boerengroep (Farmers Group), an association of radical students and young staff members who aligned themselves with farmers' protest movements in the Netherlands.
After his graduation he went to work in Colombia (
1976-1978
), where he was involved in the formation of rural cooperatives and in Guiné Bissau (
1978-1980
), where he worked on the (re-) construction of rural water supply services, dams and horticultural gardens. In the same period he carried out short consultancy missions in Ghana, Peru, Ivory Coast and Italy.
multidisciplinary research programme
In the early 1980's, together with Eppo Bolhuis, he designed a multidisciplinary research programme that focussed on a better understanding of the complex and often contradictory relations between farming and markets. This research was carried out in Italy (Emilia Romagna and Campania) and in Peru (Antapampa and Alto Piura) and formed the bases for his doctoral thesis which was published in the Netherlands under the title
Boerenarbeid en stijlen van landbouwbeoefening
, in Italy as La ristrutturazione del lavoro agricolo and in English translation by Westview Press as Labour, Markets and Agricultural Production. He defended his thesis at the University of Leiden in 1985.
Labour, markets and agricultural production demonstrated that an increased incorporation into the markets on the supply side (that is an increased commoditization of the agricultural process of production) implied a basic shift in development pattern from ongoing intensification, spurred mainly by an increase in the quantity and quality of labour to an continuous increase in scale and a (relative) extensification. It was a thesis that gave rise to considerable debate.
After a short period as lecturer at the University of Leiden, Jan Douwe van der Ploeg was asked by Norman Long, Professor of Development Sociology to join his team at Wageningen University. This was the beginning of a particularly fruitful cooperation that resulted in several articles and a new programme that attracted many students. From his new position Jan Douwe van der Ploeg was able to re-study Dutch and more generally European agriculture using approaches derived from development sociology. This included the "actor-oriented approach" developed by Long which he complemented with his own experiences in the developing world.
Rural sociology - particularly the European and North America variant - and development sociology which was primarily focused of the Third World had long been estranged. Van der Ploeg and Long brought these two sources together. Together they became the centre of a group of young researchers that was to include Dirk Roep, Rene de Bruin, Han Wiskerke, Rudolf van Broekhuizen and many others. This group became instrumental in forging a powerful, new theoretical approach. Labour process analysis, differential degrees of commoditization, differential responses to technology development, cultural repertoire and farmers' strategies together with reconceptualized notions of structure, actor and agency formed the cornerstones of this new approach.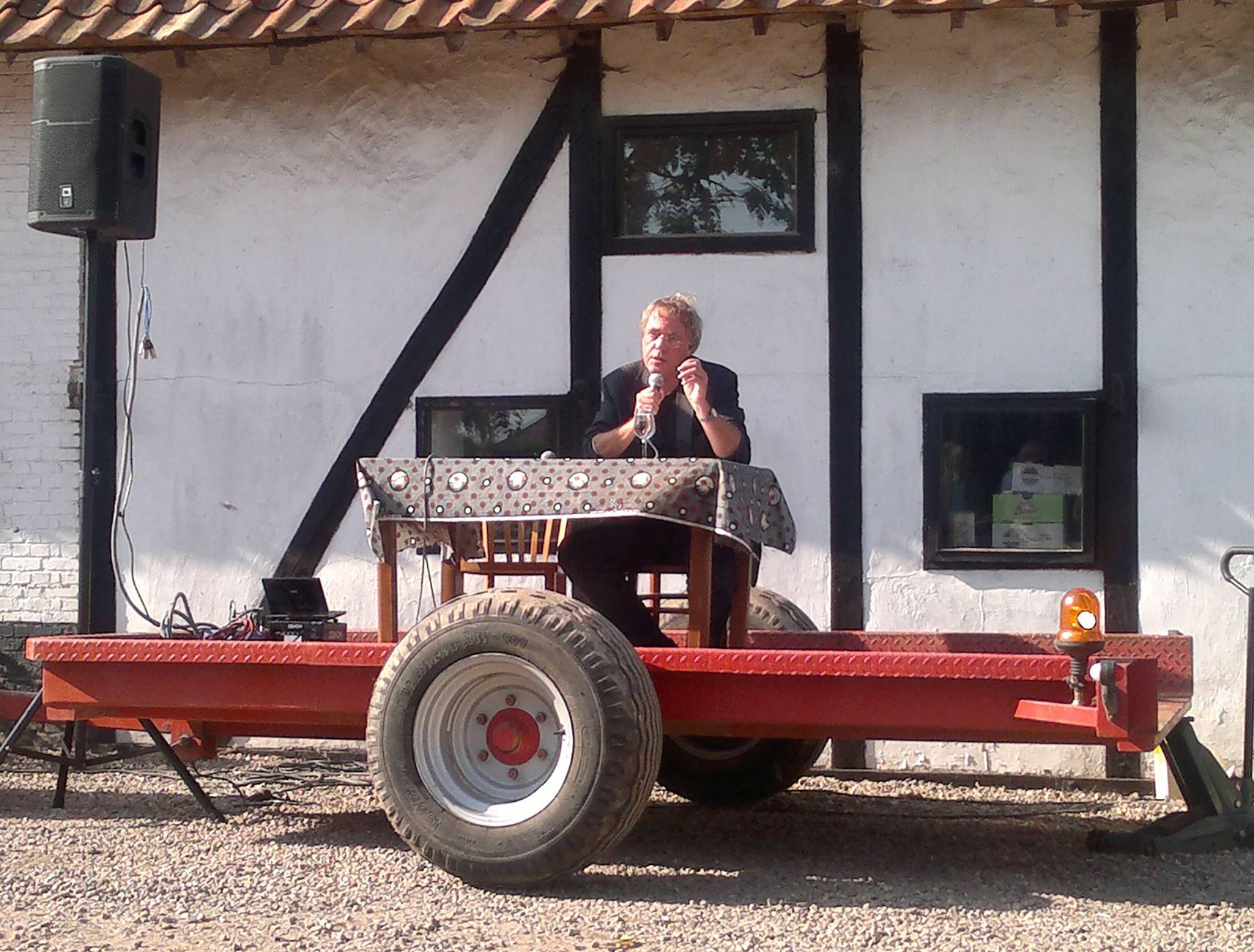 lecturing in the countryside
It was an approach that made it possible to understand the impressive and multi-dimensional heterogeneity of European agriculture - conceptualized in terms of farming styles. It identified the emergence of new development trajectories and the heterogeneous (re-) moulding of nature as expressed in fields, animals, plant varieties, and food. Farming was conceptualised as co-production making it possible to integrate these phenomena for the first time into the analysis of farming.
In
1987
Jan Douwe van der Ploeg was invited by Vito Saccomandi, Professor of Agricultural Economics in Perugia and later Italian Minister of Agriculture to join his team for a year. Together with the valuable help of Bruno Benvenuti, they were able to combine the Wageningen approach with a neo-institutional analysis of agricultural production and marketing.
It was in this period that heterogeneity, farming styles, endogenous development potential and techno-institutional innovations became the cornerstones of a vast research programme that encompassed the rural sectors of Spain, the Netherlands, Italy, Portugal, Mexico, Kenya and the United Kingdom.
Chair of Rural Sociology at Wageningen University
In
August 1992
Jan Douwe van der Ploeg was appointed to the Chair of Rural Sociology at Wageningen University where he followed the influential E.W. Hofstee, one of the founding fathers of rural sociology. In his inaugural address, Jan Douwe van der Ploeg discussed the theoretical dimensions of heterogeneity.
In his position as Professor of Rural Sociology, Jan Douwe van der Ploeg elaborated the inquiry into the expressions, implications and underlying mechanisms of heterogeneity in agriculture. In this he conceptualised one of the most crucial axis as being the general and complex interrelations between society at large and the farming population in particular. In turn this lead to a completely new line of research in which the notion of "rural development" - for the first time systematically discussed at the Conference of Cork in 1997 - became a new and appropriate umbrella.
Together with his research group Jan Douwe van der Ploeg demonstrated that "rural development" is not simply a question of political programmes or rhetoric. It is a promising and widespread phenomenon that is based on farmers' practice. It has considerable potential and is far from being a defensive strategy. This was highlighted in the Atlas van het vernieuwende platteland, also published in English language as Renewing the Countryside.
At the same time Jan Douwe van der Ploeg became increasingly involved in the public debate on the future on agriculture that was gradually increasing in momentum. He was also closely involved in some of the grass root initiatives that aimed at developing (practical) new alternatives to the reigning model of ongoing scale-increase and further industrialization of agriculture.
At the request of the government, Jan Douwe van de Ploeg sat on some committees charged with resolving some of the 'hot problems' of the countryside. He is presently member of the Raad voor het Landelijk Gebied (the Council for the Rural Areas); board member of the Stichting Waddengroep - an association of farmers, craftsmen and retailers promoting the development of high quality regional products and the SPN (Stichting Streekproducten Nederland) an organisation that promotes regional products. He is also closely associated with SBNL [Stichting Beheer natuur en Landschap), an association that promotes the agrarian management of natural values and landscapes. In Wageningen University he is chairman of the Mansholt Institute, a research school for the social sciences that is principally concerned with the problems of agriculture and the rural areas.
Currently, Jan Douwe van de Ploeg is involved in several research initiatives:
a) A systematic and comparative analysis at European Union (EU) level of the socio-economic impact of rural development processes (EU funded)
b) An inquiry into novelty production, technological regimes and strategic niche management (funded by the NWO, the Dutch Society for Scientific Research)
c) Support to the development of new lines of research and techno-institutional design methods in South Africa (ARDP and SANPAD)
d) Analysis of new forms of rurality in the Netherlands and Italy (ACLI/IREF)
e) The development of new roads towards sustainability in dairy farming (VEL/VANLA)
f) Processes of de- and re-peasantization (Italy, Eastern Europe, the Netherlands)
Virtual Farmer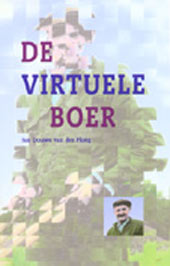 At the end of
1999
Jan Douwe van der Ploeg published
De Virtuele Boer (The Virtual Farmer)
, which proved extremely controversial and took his work in exploratory and new dimensions. In the Virtuele Boer he argued that farming knowledge as accumulated and produced by expert systems such as universities, the Ministry of Agriculture and applied research institutions was increasingly at odds with reality and was not a true representation of the way forward. He argued that at a very fundamental level this was due to a disastrous reshuffling of the interrelations between past, present and future.
The new peasantries
From
2002
onwards, Jan Douwe van der Ploeg increasingly dedicated himself to restudy the specific realities he already knew from his previous field studies. This allowed him to construct longitudinal datasets that reflect the differential dynamics of farming, i.e. the study of farming as an organized flow of activities through time. These longitudinal studies (that focused on Piura in Peru, Emilia Romagna in Italy and the Northern Friesian Woodlands in the Netherlands) resulted in a new book: "The New Peasantries: Struggles for Autonomy and Sustainability in an Era of Empire and Globalization"(Earthscan, London, 2009). The book has been translated in
Portuguese
("Camponeses e Impérios Alimentares", PGDR/UFRGS, Porto Alegre, Brasil),
Italian
("I Nuovi Contadini: le campagne e le risposte alla globalizzazione", Donzelli Editore, Rome),
Spanish
("Los campesionos nuevos", Icaria Editoria, Barcelona) ,
Chinese
(COHC/CAU, Beijing)and
Korean language
.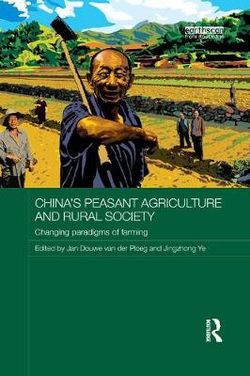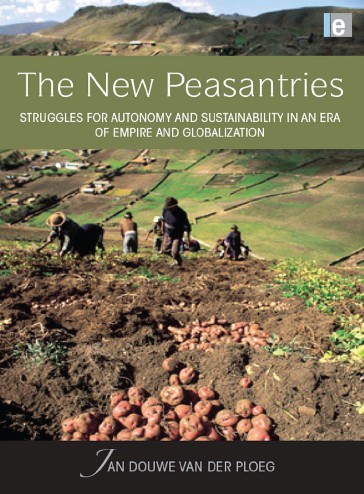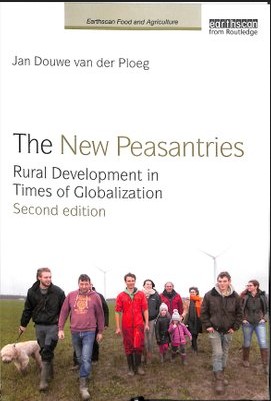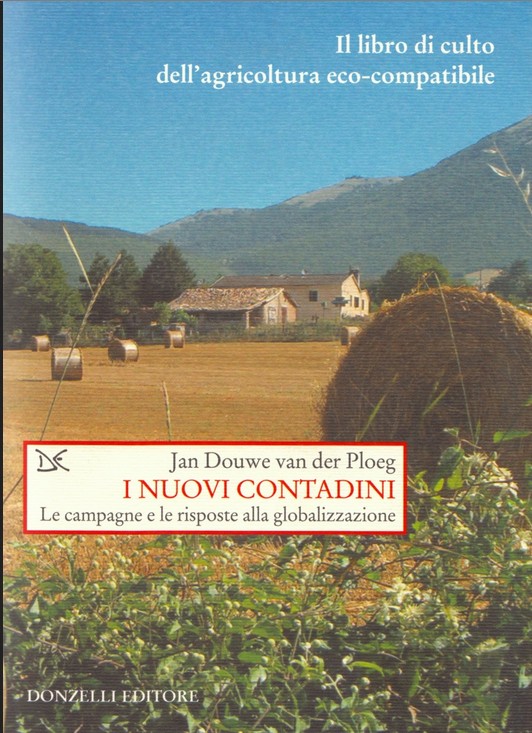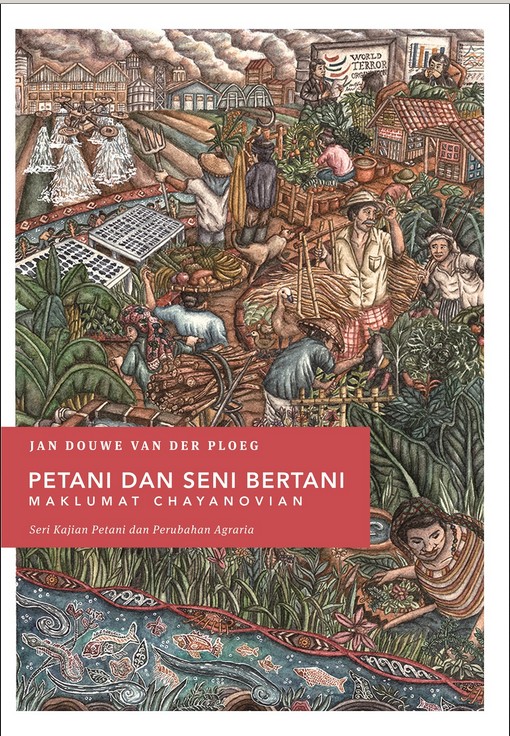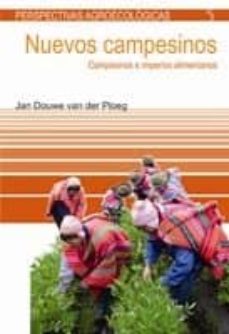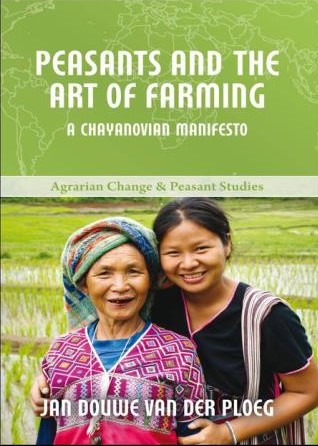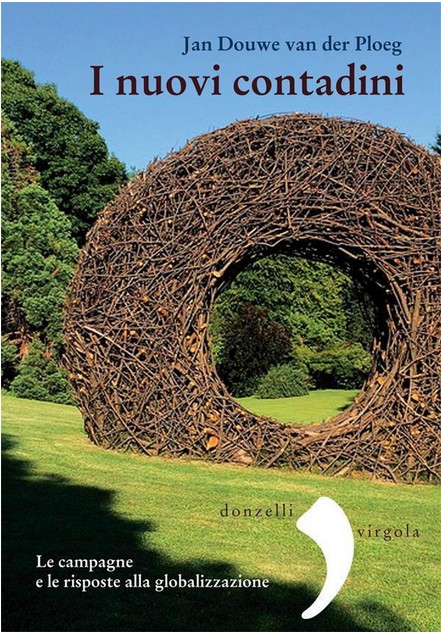 Central to
The New Peasantries
is the argument that alongside processes of agricultural industrialization (a process that proceeds along the lines of scale-enlargement, intensification, specialization and artificialization) and disactivation (a process that implies a reduction and, in the end, a complete elimination of agricultural activities), there is a clear tendency of re-peasantization. The later process implies a quantitative enlargement and a qualitative strengthening of peasant agriculture. Re-peasantization occurs as much in Latin America and Asia, as it takes places in Europe and parts of North America. During the price hike of 2007/2008 and the following period of extremely low process, the theses forwarded in "The New Peasantries" proved their relevance.
The elaboration of "
The New Peasantries
" was strongly facilitated by a change in institutional role: From 2003 onwards Jan Douwe van der Ploeg could operate as research professor of WUR, with special attention for transition processes in rural Europe. Very helpful was also his nomination as Parttime Professor in Rural Sociology at the China Agricultural University in Beijing (COHD/CAU). This nomination not only reflects the relevance that Chinese agrarian sciences attribute to rural sociology; it also expresses the need to understand the nature and dynamics of the peasantry – not only yesterday's peasantries, but the peasantries of the third millennium.
Jan Douwe van der Ploeg has supervisedso far, 46 completed Ph.D. projects He was chief editor of the Dutch series Studies van Landbouw en Samenleving and of the English language collection European Perspectives on Rural Development published by Van Gorcum in Assen, the Netherlands.
First of March 2019: an update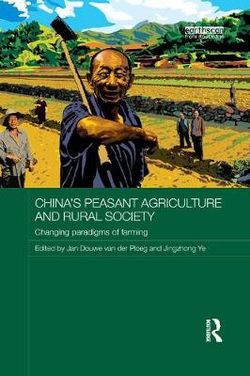 In
2018
Jan Douwe van der Ploeg published an updated and enlarged second edition of The New Peasantries (Earthscan/Routledge). The experiences obtained through using it as textbook in international teaching (in Porto Alegre , Beijing, Pollenzo/Bra, Baeza and Wageningen among others), helped considerably improve upon the first edition. This second edition pays more attention to peasant agriculture in China and Brazil and includes a critical analysis of new expressions of peasant struggles.
The theme of peasant agriculture, as a distinctively different form of farming, that meets a wide range of societal needs, has been further developed in Peasants and the Art of Farming: A Chayanovian Manifesto (Fernwoord, 2013) and in China's Peasant Agriculture and Rural Society: Changing paradigms of farming (Earthscan/Routledge, 2016, 2018). The first book (or ' booklet' as some friends call it) summarizes the theory of A.V. Chayanov, a Russian scholar who was very active before, during, and after the Russian Revolution of 1917. The booklet shows the relevance of Chayanov's theory on peasant agriculture to contemporary farming and shows its analytical strength and relevance. The booklet has been translated into
Spanish, Italian, Portuguese, Russian, Chinese and Korean
(and published by, respectively, ICARIA Editorial, Barcelona/Etxalde, Bilbao; Rosenberg & Sellier, Torino; UFRGS Editoria in Porto Alegre; in Moscow; the Social Sciences Academic Press (China); The Newspaper for Korean Agricultural Policies and Korean Peasants League in Seoul).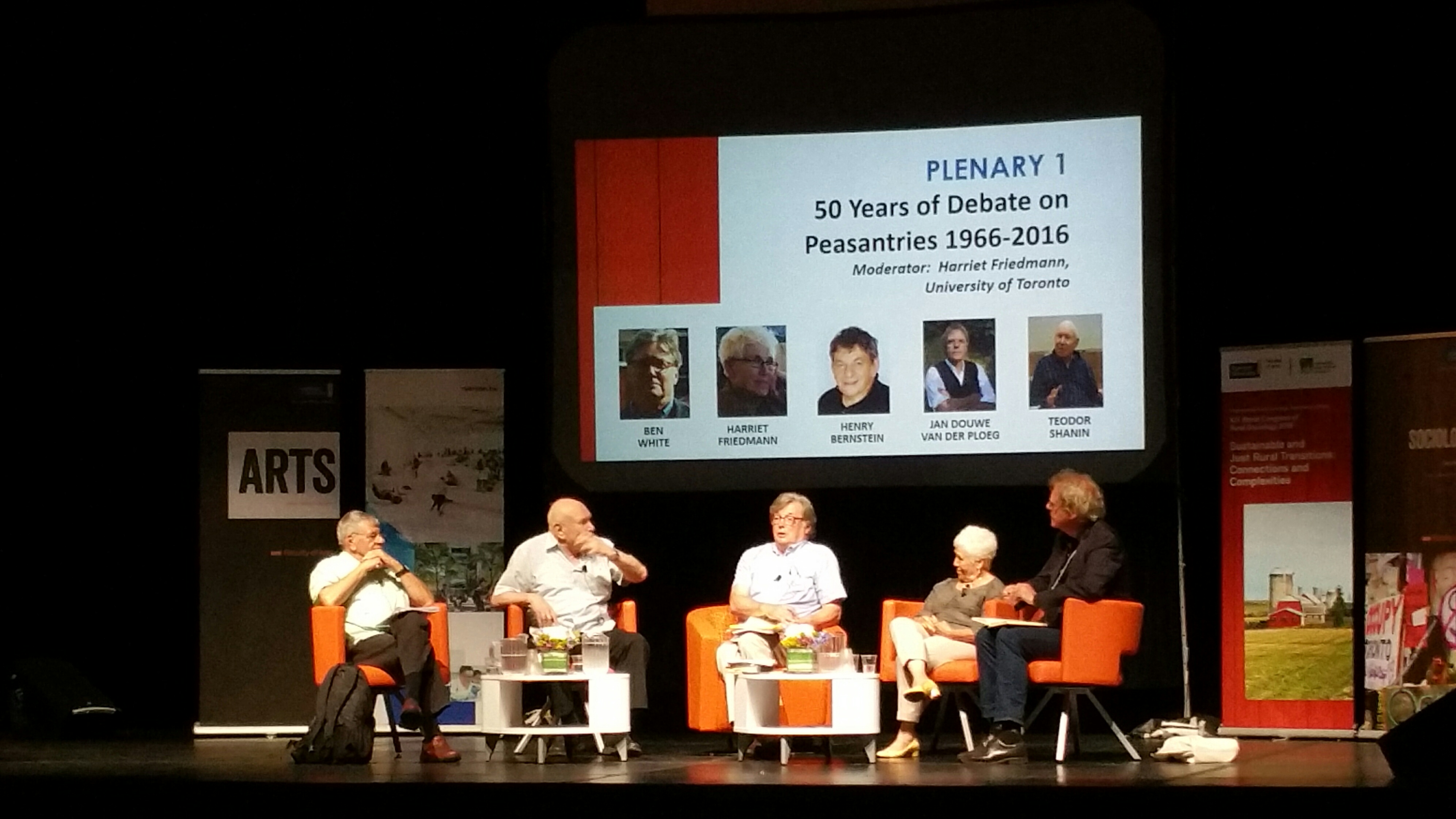 discussing 50 years of peasant studies with Henry Bernstein, Teodor Shanin, Ben White, Harriet Friedmann and Jan Douwe van der Ploeg
The other book (on China's peasant agriculture) is co-edited by Prof. Ye Jingzhong, the Dean of the College of Humanities and Development Studies (COHD) of China Agricultural University (CAU).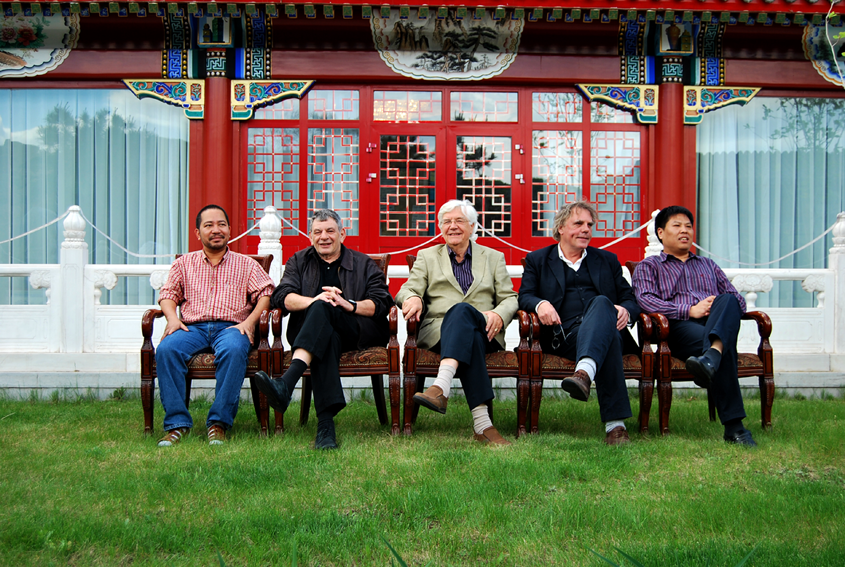 Fragrance Hill, Beijing. Van links naar rechts: Jun Borras, Henry Bernstein, Norman Long, Jan Douwe van der Ploeg en Ye Jingzhong
It contains 12 chapters (written by Ye Jingzhong and Jan Douwe van der Ploeg and a range of Chinese colleagues) that focus on different aspects of Chinese agriculture, its dynamics, the role of markets and the underlying paradigm.
This book received positive comments and reviews. Read one of the reviews
click here review in PDF
Farewell address: The importance of peasant agriculture: a neglected truth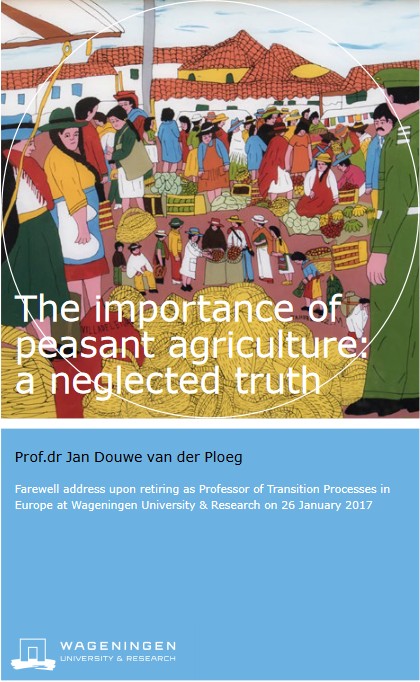 Jan Douwe van der Ploeg has now (formally) retired from Wageningen University. On the 26th of January 2017 he gave his farewell address:
The importance of peasant agriculture: a neglected truth
(a title that aptly summarizes Jan Douwe van der Ploeg's life work). He currently works as Adjunct Professor at COHD at CAU in Beijing. He is a member of the Board of Agroecology Europe and also a member of the Advisory Board of the Northern Frisian Woodlands Territorial Cooperative.
read:
The importance of peasant agriculture: a neglected truth
Farewell Address of Jan Douwe van der Ploeg
download in pdf:
The importance of peasant agriculture: a neglected truth
NEW
---
---
Jan Douwe van der Ploeg
Formerly Professor and Chair of Rural Sociology and Emeritus professor of Transition Studies at Wageningen University (WUR), the Netherlands and Adjunct Professor of Rural Sociology at the College of Humanities and Development Studies (COHD) of China Agricultural University (CAU) in Beijing, China.
e-mail: clic here