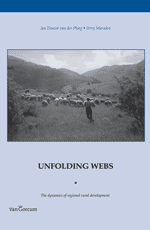 Auteur: Ploeg, J.D. van der
Ondertitel: the dynamics of regional rural development
Taal: Nederlands
ISBN-10: 9023244842
Uitgever: Gorcum b.v., Koninklijke Van
Aantal pagina's: 272
Genre: Landbouw en natuurlijke omgeving
Rural development stems from combining a wide range of different and often refigured rural resources in new ways. As a result these resources flow into new activities, interactions,transactions and networks. The effects of this become particularly significant when activities and relationships start to mutuallyreinforce each other. This is when synergy is created; especially when new town-countryside relations emerge that support the newly emerging activities and networks.
The contributions in this volume help expand our understanding of the creative patterns which shape resources, activities, transactions and networks and which build new relationships between them.
The contributions to this book have been developed in the context of the ETUDE programme that is conducted (in the period 2007-2009) within the 6th Framework of the European Union.
European Perspectives on Rural Development is a series, which offers new and fresh insights into European rural development. At the same time, it emphasises the specific and heterogeneous nature of the European countryside, its regions andagricultural systems.
The series is published under the auspices of the Circle of European Studies (CERES) and Wageningen University.
Unfolding webs
Preface: Exploring the rural web
Terry Marsden and Jan Douwe van der Ploeg
1
Towards a framework for understanding regional rural development
Jan Douwe van der Ploeg, Rudolf van Broekhuizen, Gianluca Brunori Roberta Sonnino, Karlheins Knickel, Talis Tisenkops and Henk Oostindie
2
Sustainability and rural development
Roberta Sonnino, Yoko Kanemasu and Terry Marsden
3
The endogeneity of rural economics
Henk Oostinide, Rudolf van Broekhuizen, Gianluca Brunori and Jan Douwe van der Ploeg
4
The dynamics of novelty production
Henk Oostinide and Rudolf van Broekhuizen
5
Social capital
Talis Tisenkopfs, Ilze Lace and Inta Mierina
6
New institutional arrangements in rural development
Karlheinza Knickel, Simone Schiller, Hilkka Vihinen and Anja Weber
7
The governance of markets
Hilkka Vihinen and Laura Kröger
8
The rural web: A synthesis
Flaminia Ventura, Gianluca Brunori, Pierluigi Milone and Giaime Berti
9
Testing the web: A comparative analysis
Yoko Kanemasu, Roberta Sonnino,Terry Marsden and Sergio Schneider
Annex 1 List of Case Studies
10
The impact of policy arrangements
Yoko Kanemasu
11
Some final reflections
Terry Marsden and Jan Douwe van der Ploeg
References
NEW
---
---
Jan Douwe van der Ploeg
Formerly Professor and Chair of Rural Sociology and Emeritus professor of Transition Studies at Wageningen University (WUR), the Netherlands and Adjunct Professor of Rural Sociology at the College of Humanities and Development Studies (COHD) of China Agricultural University (CAU) in Beijing, China.
e-mail: clic here